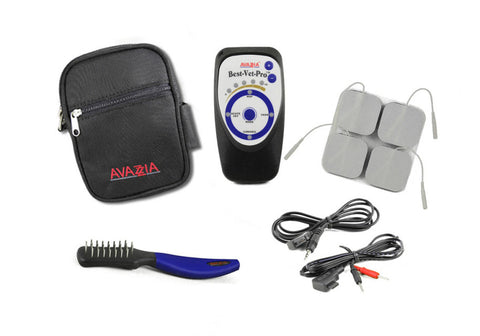 Best Vet Pro - Kit
Electro-Stim Biofeedback Solutions for Veterinarians, Ranchers and Pet Owners
Stronger medical massage device used by professional veterinarians on pets and horses for pain abatement, improved wound healing, increased range of motion.  
BEST-Vet and BEST-Vet PRO provide pain relief, wound healing and increased range of motion for animals under stress. Ranchers have used BEST-Vet to help revive calves; hunters have used BEST-Vet to help their dogs recover after a hard day in the field; horsemen and horsewomen have used BEST-Vet in a variety of applications – to help range of motion, improve wound healing and treat founder (laminitis).
BEST-Vet devices offer the following: 
Non-pharmaceutical, non-invasive treatment for acute and chronic pain in animals, either through direct application of the device's onboard electrodes or by using conductive brush electrode, conductive pads or loop-and-hook sleeves.
Treatment to improve range of motion, including "locked up" joints.
Treatment to help increase perfusion for better blood circulation and improved lymphatic drainage.
BEST-Vet is used on animals in place of or in addition to therapeutic massage to reduce stress and improve performance.
Avazzia devices are safe to use directly on animals and do not require a prescription.
The BEST-Vet PRO and BEST-Vet devices are for pain relief for pets and animals. Devices are not for human use.
Device Details:
4 modes of operation
One year warranty for parts and labor
Audible Indicators and lights
Kit Includes:
BEST-Vet-Pro 1 AVH-BVP

BEST VET PRO Device 1AA-CP
Pouch 1 AA-CP2x2
2x2 Conductor Pads
1 AA-LW250RB
1 Lead Wire
AA-EC - Comb Electrode
1 AA-LWE 250-250 Lead Wires
 No Prescription Required
WARNING: Not intended for animals with pacemakers or other implanted electronic device or who may be pregnant.